Ballance Weekly Report
Week 4 of 2021
January 18th, 2021 - January 24th, 2021
---
ImbalancedDream(失衡之梦) released a mapping script tutorial, which is comes from 9826HZg's book, "Textbook of Creating Scripts in Maps of Ballance". 9826HZg's book is a handwritten book which have 7 chapter, 40 pages. He write this digital document at the same time with learning from the handwritten book.
This digital book almost perfectly reproduces the content of the handwritten book and don't have ImbalancedDream's personal opinion. Also, due to limited time, he did not make the last chapter into an digital book.
This book is written in Chinese.
Book catalog
Make a level with script

Principle
Basic method
Add & connect BB
Restore flame

4 easy examples

Extra flame
Column transition
Attach BGM
Attach tutorial (just like tutorial in Level 1)

Other uses
Frequently used or useful Building Block(BB)
Virtools Array introduction
IC introduction
Appendix
Release topic (for preview book): https://tieba.baidu.com/p/7200898395
Download book: Our MEGA network disk
Handwritten book: Tutorial / Textbook of Creating Scripts in Maps of Ballance / Handwritten Book.pdf
Digital book: Tutorial / Textbook of Creating Scripts in Maps of Ballance / Digital Book.pdf
---
Swung0x48 published his new BML mod again, Segment. This is a fully refactored Mod. Its main function is showing time and score when you pass the checkpoint. This mod required BML version is 0.3.30 (or newer version).
In this version, he move sector time and score information from console output to the side panel. Additionally, it can display history comparing result, just like LiveSplit. If you push Restart button in pause menu. This mod will remeber your pervious score and show the comparing result in the next play with color(red, green and yellow). But, if you exit the level and re-enter the level. The history will be wiped out.
But this sector based record method is not accepted by Chinese speedrunner. The main reason is almost Chinese speedrunner don't use sector for comparing record. Chinese speedrunner perfer to use special spot, such as a extra point, or a special position, for comparing record, rather than checkpoint. Swung agree to speedrunner's opinion but it is hard to implement in program. Also, he encountered a problem when developing this mod. He use too many Label and it will massively decrease the FPS when you open Overclock in BML. He try some solution. Finally, he pick Text instead of Label to show data in game. It solve the performance problem.
Preview image: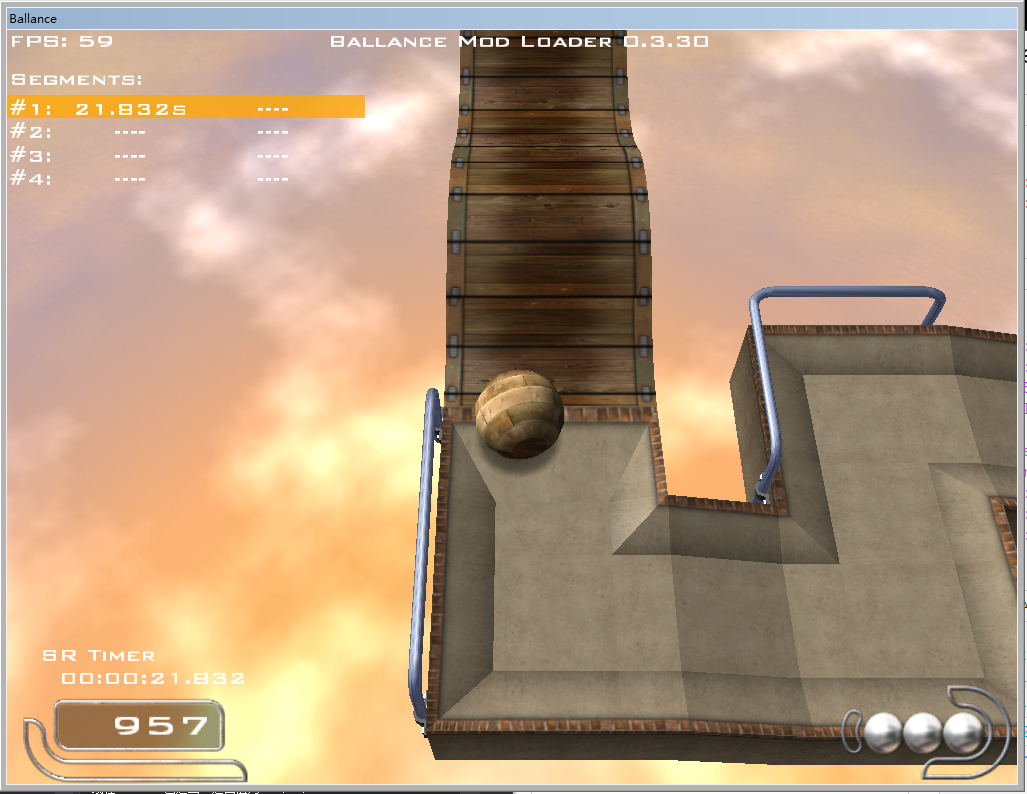 Release topic: https://tieba.baidu.com/p/7201755295
Video: https://www.bilibili.com/video/BV1oz4y1S7Yi
GitHub page(download the latest version from Release page): https://github.com/Swung0x48/Segment
---
Ballancebug submit a topic on Chinese Ballance Forum, called "Personal opinions on common misunderstandings of mapper". He said he wanted to talk about this very early. Also, he said this is only his personal opinions. He welcomes others to post replies in topic for discussion. He mainly stated 5 opinions in topic.
Mapper cognitive bias about difficulty
The logical map must follow the path I designed. Shortcuts are harmful to my creativity and must be eliminated.
The optimization of the details of the map is an unreasonable request / The details of the map must be done without any flaws
If the map is not made difficult, it will be difficult to reflect my various creative designs
The map is unqualified if it is not particularly long or particularly substantial
Many people participated in this discussion, including mappers and many players. yunjuyihao has brief and clear opinion, that the map suiting for speedrun is a good map. Also, there are someone have sharp opinion. Burning红云 said, nowaday, map release topics only have spam replies, such as, awesome, good and etc. He couldn't think a good map can be created in this weird atmosphere and it will cause a vicious circle. He even criticized the naming of the map, believing that no map's name matches its content. He think mapping become the accumulation of beautiful but useless technique and he couldn't find previous mapping feelings.
Also, someone talk about this argument in detail. 平衡四边球, 口语大赛, Tert_Wei and etc used a short paragraph of text to explain their point of view, mainly related to how the difficulty should be determined and what the mapping is for.
Additionally, this question is actually an argument between Ballancebug and dahkjdas about mapping. dahkjdas also participated this argument and released his 3 opinions as a response to Ballancebug:
Player subjectivity or author subjectivity
Creative point or garbage point. Design is not to shackle yourself.
Production or design
In following replies, Ballancebug and dahkjdas also had many discussions in this argument. The weekly report will continue to follow this discussion next week.
Due to this discussion is written in Chinese, it is hard to give reader a full view of this topic. And due to my(the author of this report) limited English skill, the translation may have some subjective content. If you can read Chinese, you can view the full topic via following link. This argument may be translated in future if some translators have spare time. Chinese Ballance mapping technology is so modern that someone even can talk about what the mapping is for. But here, there are still many people who don't even know how to create custom map. This can't help but feel embarrassing.
Topic link: https://tieba.baidu.com/p/7199449643